ProTorque Racing Torque Converters
Archived 2013 Drag Racing News, Product And Press Announcements
ProTorque Archives 2013 Drag Racing News, Product And Press Announcements Drag Racing Records, NHRA, PSCA, NMCA, NMRA, Outlaw 10.5, Drag Radial and more... See our Archived 2012 Racing News by ProTorque Here, Latest Drag Racing News From ProTorque Here
Luppino Racing Australian Pro Street Blown Champions 2013 - record holder's 6.69 @ 219.50 ProTorque Racing Torque Converters
"Hi Joe, just got home from a huge weekend. This was our last round for the year and the champion series. I had a new personal best and reset the Australian National Record (which I held already) with 6.69 @ 219. I made it to the final but was disqualified with a water leak therefore we came runner up but I did win the championship for 2013. It's been a good year of racing and we couldn't have done it without my ProTorque Converter."


Troy Coughlin Wins 4th Straight Final at Las Vegas SCSN's ProTorque Racing Torque Converters
At this rate of success, Troy Coughlin might not want to race anywhere but The Strip at Las Vegas Motor Speedway.

On Sunday night (Nov. 17), Coughlin backed up his 2012 Pacific Street Car Association Street Car Super Nationals title in his turbocharged JEGS.com Chevy Corvette. Combining that with back-to-back NHRA Pro Mod series wins makes for four straight wins at The Strip for the affable Ohioan.

"We do seem to have the magic touch here," Coughlin said. "Beyond that, I've got a great team supporting me led by Steve Petty. They really get this car tuned to perfection when we're out here in the desert."


Coughlin, who qualified third in Outlaw Pro Mod, beat No. 1 qualifier John Stanley (right, far lane) in the final. Stanley got off the finish line first, but it was Coughlin who had the better car. Coughlin's winning pass came in 5.914 seconds at 252.61 mph while Stanley slowed to a lap of 6.568 seconds at 184.12 mph.

"Last year we didn't have a car next to us in the finals of this race because our opponent broke," Coughlin said. "I offered to split the pot with him then and he said, no way. So this year was a definitely a better challenge. The car ran well all day and really came through for us when it counted."

The semifinal round against Eric Dillard was Coughlin's closest contest of the afternoon. Dillard was off the line first, but once again the turbo JEGS Corvette muscled its way to the finish line first. Coughlin ended with a lap of 5.724 seconds at 259.11 mph to Dillard's 5.753-second pass at 259.31 mph.

"That round is what drag racing is all about," Coughlin said. "We were welded together all the way down the track. I knew he was right with me at the finish, and I was so happy when it was my win light that came on and not his."


Coughlin opened the day with a solid victory over European Pro Mod ace Adam Flamholc. Coughlin was off the line first and cruised to a pass of 5.715 seconds at 248.89 mph. Flamholc finished in 6.046 seconds at 237.30 mph.

In the second round, Coughlin advanced when Rob Moore was disqualified. Coughlin's time in that round was 6.484 seconds at 235.84 mph.

"This is always a fun weekend for us," Coughlin said. "Now we'll get back in the shop and start working on the car so we can start the season next year in Gainesville."

(Photos courtesy JEGS; Click to enlarge)


Mark Carlyle Fastest IRS / LS Car In The World 2013 Final Race Report ProTorque Racing Torque Converters
First of all I would like to thank you for your support in 2013! Everything that you did for our team made the accomplishments we achieved possible! The last race of 2013 for us was the World Cup Finals Import Vs. Domestic in Maryland at Maryland International Raceway. In testing we accomplished a bunch of firsts and set a handful of new records...

* 1st IRS Car in the world to run a 1.12 60' time
* 1st IRS Car in the world to run a 4.36 1/8th mile - Improving our world records for 1/8th mile
* Fastest IRS Car in the world ET and MPH
* Fastest Stock Suspension Small block car in the world ET and MPH
* Fastest LS Powered Stock Suspension car in the world ET and MPH
* Fastest Stock Suspension Corvette in the world ET and MPH

* 1st IRS Car in the world to run sub 3 seconds to the 330' mark we ran a best of 2.94!

* 1st IRS Car in the world to run in the 6.5x range setting new records for the 1/4 mile
* Fastest IRS Car in the world ET and MPH
* Fastest Stock Suspension Small block car in the world ET and MPH
* Fastest LS Powered Stock Suspension car in the world ET and MPH
* Fastest Stock Suspension Corvette in the world ET and MPH
* Fastest LS powered car in the world MPH with 223MPH

Our best pass of the weekend was a 6.58 @ 220 but we also ran a 6.66 @ 222 and a 6.62 @ 223 matching our best MPH ever and improving on our best ET ever.

All in all it was a great year and we capped it off with more firsts and world records!
In 2014 we will try to go faster than 6.48 and set the any car Drag Radial Record as one more feather in our cap!
Mark Carlyle
* Fastest IRS Car in the World
* Designed and Built by www.ipsmotorsports.net
* 6.58 @ 223MPH
www.carlyleracing.com


Nick Agostino 2013 Racing Season Wrap Up With ProTorque Racing Torque Converters
In 2012 and 2013 ProTorque has helped us achieve all the goals we set out to accomplish...... ProTorque helped our program get all 3000hp of TT'd SB down the trickiest tracks while maintaining top MPH through the constant R&D and support by Joe Rivera and his team.


We not only ran better 60's and MPH but were more consistent pass after pass which led to wins in outlaw 10.5 for 2013.... Thanks team Pro Torque!!!!!!!!!"

A few accomplishments for 2013:

Fastest and quickest SB car in outlaw 10.5 to date including 2013 4.16 @ 197 mph
Winner at CSCN in outlaw 10.5 2013
Winner at Grand bend outlaw 10.5 2013
Over all 2013 class points winner of Canadian outlaw 10.5 Association
Low ET and top MPH in first 2 rounds in outlaw 10.5 at YB nationals


Fiscus - Klugger Racing End Year On A High Note At Orlando World Street Nationals 2013
Last weekend's Orlando World Street Nationals proved to be a successful comeback for the long running event. The track seemed better than ever with numbers to back it up! Kevin Fiscus, of Fiscus/Klugger Racing, brought their Pro Mod Mustang to Orlando looking for a win in the Super Pro Street class. His PLR 481X powered machine has had a big year and nothing would be sweeter than ending the race season with a victory and a new track record!

Fiscus qualified #2 with a 6.00@246mph! He had a bye run in the semi finals and reset both ends of the track record with a 5.932@251.34mph. He went on to win the race in final round.

Congrats to Kevin and the whole Fiscus/Klugger Racing team!




Frank Soldridge, PSI Speed Solutions and ProTorque Setting Outlaw Drag Radial Records
2013 has been a pretty interesting year for Drag radial Racing and for ProTorque. Most of the top Performers in Drag Radial Racing are TEAM ProTorque including PSI Speed Solutions Racing Team of Frank Soldridge and Vinny Fiore who ended the year with a bang. Frank who has captured the ODR track record at FIVE DIFFERENT tracks ended the year with running a 4.21 at 187 mph at MIR this past weekend. He backed it up the next pass with a 4.23 at 187 mph but unfortunately had some problems that prevented him from continuing further. The fact that Frank is holding the ODR record at MIR, ATCO, Cecil County, Maple Grove and Englishtown demonstrates his tuning abilities are bar non some of the best in the game. Congratulations to a great 2013 Season

The BIG news here is that Frank ran these numbers with a brand new "Gen II" Revolution series converter. It has not been released yet but will be soon and based off the performance gains that Frank saw this weekend we are expecting great things. This "Gen II" is a unique and very innovative design so stay tuned for more information to become available through the ProTorque website and Facebook Fan page

Via "Frank Soldridge"
"Today was the last race for us for the season we qualified #1 with a 4.21@187 and then ran a 4.23 @187 with a 1.1160ft!!! On a bad note the timing belt tore and ended our day. I would like to thank all of our sponsors that help us out Mark from M&M Transmissions for building a badass trans!!! Joe Newsham from J&E Performance for building a badass motor!!! And Joe from ProTorque for providing us with our converters!!

I can let the cat outta the bag now, we were testing his new Gen 2 Revolution converter we are the first radial car to have it in I had my 4.30@183 tune up in it from Atco last week only changed the converter and went 4.21@187 on just a converter change oh and we added a 100lbs to the car to make weight at 3350!!! All I can say that converter will take radial cars to the next level for sure!!!

Thank you to my partner Vinny and all of our crew guys to many to list but you know who you are!!! Lol and lastly my wonderful wife for the love and support she gives me and enables me to go out in my racing endeavors!!! 2013 ended great can't wait till Feb!!"


DAVE HANCE RACES TO NEOPMA PRO MOD SERIES VICTORY AT FINAL POINTS EVENT OF 2013 AT MARYLAND INTERNATIONAL RACEWAY
(10-29-2013) Mechanicsville, MD - Dave Hance and the New York Motorsports Team had their 57' Pro Mod Belair ready for action and proved it with an impressive 5.867/252.14 pass vs. Robert Patrick to win at the "NEOPMA Pro Mod Wars " at Maryland International Raceway this past weekend. Hance's consistency was awesome, and his performance took him to his first NEOPMA victory.
Conditions were awesome all weekend, and with two days of beautiful weather forecasted leading up to the event, 14 teams attended and prepared for qualifications. Some of the teams struggled to get a handle on the track with perfect conditions few see, but by the final qualifier many of the teams where ready for eliminations. Robert Patrick set the standard in the first qualifying round clicking off a 5.868/242.19 for a MIR and NEOPMA Nitrous record, and then backed it up with a faster 5.844/243.33 in the second round of eliminations. Dave Hance also broke his own NEOPMA Boosted ET and speed record with a 5.889/252.19. Who says you can run Pro Mods in the Northeast in late October.
NEOPMA would also like to thank all the teams that attended and a thank you to Bruce Boland and Team for coming all the way down from Canada and running a personal best 5.92/243.11 to boot.
"MIR is one of the best tracks in the nation," Dave Hance said. "The New York Motorsports Belair was working perfectly. Track Manager and Owner Royce Miller and all the staff at MIR took care of all the racers, and prepped the track perfectly. My Team at times struggled with gremlins, but had the Pro Mod running fast when needed." "This event was added to our schedule after Virginia Motorsports Park cancelled the event at their facility due to cold conditions." said John Mazzorana NEOPMA President. "We basically called all the teams and said the season was done after VMP cancelled the final point's event of the 2013 NEOPMA season. We had Fred Scriba and Gary Courtier battling for a Championship and one round win separated them. Royce Miller of MIR came to the rescue and made his facilities available to us and said he would prep for record times and he is a man of his words. A huge thank you to Royce Miller and his entire team for what they have done for the NEOPMA."

With Gary Courtier advancing one round more than Fred Scriba, he becomes the 2013 NEOPMA World Champion. More press on Gary Courtiers Championship to come.
Final round-by-round results from the NEOPMA Pro Mod Warriors Series following the "Pro Mod Wars" at Maryland International Raceway.

ROUND ONE - Bob Bailey, Monte Carlo, 6.762, 199.14 def. Gerry Capano, Corvette, 6.438, 236.30 Foul; Fifi Montrond, Corvette, 6.076, 238.01 def. Derrick Townes, Camaro, 9.692, 93.16; Tommy Gray, Corvette, 6.124, 205.04 def. Fredy Scriba, Corvette, 11.877, 70.37; Gary Courtier, Camaro, 6.313, 210.63 def. Paul Atkins, Mustang, 7.399, 187.91; Jeff Miller, Belair, 6.753, 156.12 def. Ron Green, Firebird, Broke; Kevin Fortney, Jr., Monte Carlo, 6.72, 156.64 def. Bruce Boland, Firebird, 5.923, 243.11 Foul; David Hance, Belair, 6.399, 225.20 def. Bye; Robert Patrick, Mustang, 11.207, 77.24 def. bye.

QUARTERFINALS - Hance, 6.759, 216.72 def. Fortney, 11.357, 76.33; Miller, 6.107, 232.79 def. Courtier, 7.285, 106.11; Montrond, 16.80, 82.57 def. Gray, Broke; Patrick, 5.844, 243.33 def. Bailey, 6.935, 189.49.

SEMIFINALS - Patrick, 7.556, 161.17 def. Montrond, 16.448, 42.26; Hance, 5.889, 252.19 def. Miller, 6.091, 235.59.

FINAL - Hance 5.867, 252.14 def. Patrick 9.477, 95.29.
Final Point standings (top 10) for NEOPMA Pro Mod Warriors Series following the Door Wars at Maryland International Raceway.

1.Gary Courtier 2714, 2. Fredy Scriba 2652, 3. Jeff Miller 2075, 4. Steve Kramer 1667, 5. Angela Ray 1565, 6. Dave Hance 1242, 7. Dwayne Wolfe 1085, 8. Gerry Capano 1058, 9. Jeff Rodgers 1019, 10. Steve Drummond 940.
For more info on the Northeast Outlaw Pro Mod Association visit http://www.neopma.com and a huge thank you to all our sponsors below.
NEOPMA Associate Sponsors: USA Auto Supply, Switzer Dynamics, Resolution Racing Services, Jeff Miller Performance, J&S Performance Center, American Racing Headers, New York Motorsports, Pro Torque, RPM Magazine, Goodyear Racing Tires, Moroso Performance Products, Star Transporters/Renegade, VP Racing Fuel, Dixon Automotive, Barker Racing, SplitRacing, Tim O'Hare Custom Builders, Scriba Welding, Star Cab Co., Reher Morrison Racing Engines, Jan-Cen Motorsports, G-Force Racecars, www.ifitsgotamotor.com
Rob Valden, Josh Ledford and owner Andrew Alepa top ten fastest Drag Radial cars in the country
Congratulations to Rob Valden, Josh Ledford and owner Andrew Alepa for jumping right up to being one of the top ten fastest Drag radial cars in the country. The Proline 481 X mustang Powered Mustang ran a new personal best of 4.252 and 187 mph at the "Fall Brawl" in Holly Springs MS this weekend

Some may not know but this car has some longtime drag radial history, it was the first drag radial car in the 6's when it was owned and piloted by Dave Hance. The car has since gone through a new facelift and complete overhaul to make it one of the fastest Drag Radial cars in the country in just TWO OUTINGS.


Shane Fisher's x275 Successful Season with ProTorque Racing Torque Converters
Relative Unknown racer Shane Fisher came virtually out of nowhere this year to WIN the two biggest X 275 races of the year, No Mercy IV and Fall Brawl at Holly Springs. Not only did he win but he was #1 Qualifier and set (and RESET) the X275 record with a 4.53 and 166mph.


Shane, under the direction of Drag radial racing LEGEND John "MF" Kolivas, has dominated this season winning several local races as well as these two last races. Shane is using one of our new Revolution Series Bolt together converters and has had nothing but tremendous success. Look for big things with Shane in the 2014 season and we are happy to have him on TEAM ProTorque

Quote from Shane when he broke the record back in September

I'd like to give a big thanks to Joe at Pro Torque. I've been running ProTorque's Racing Torque Converters all year and set the x275 turbo record with it back in the spring. I decided to try ProTorque's Racing Torque Converters new Gen 2 Revolution series bolt together torque converter last week. We bolted it in and picked up 3mph and .03 out back with no other changes!!! Couldn't be happier with it! We are running numbers thought impossible a few months back!
Keith Berry Obliterates Radial Record At Holly Springs
This past weekend at Holly Springs Dragway in Mississippi, the Fall Brawl assembled some of the greatest drag radial racers in the world to finish out the season. Keith Berry has been hard at work figuring out his Drag Radial Corvette, and on the Holly Springs surface he pulled out all the stops in an attempt to finish his season strong.
Strong isn't the word, though, as he absolutely annihilated the Outlaw Drag Radial record with an unreal 4.19 at 185 MPH before running through the rest of the field to win the event over one of the strongest collection of radial tires assembled all year. Berry's Proline Racing Engines-built, billet-block, LS-powered, Bell Chassis' Corvette is one of the most beautiful cars you'll ever see on the racetrack, and its performance backs up the stunning good looks.
Berry almost didn't even complete the weekend, as during his qualifying pass on Saturday he managed to not only break the existing small-block ODR record with a 4.21 at 184 and qualify number one, but in the process managed to spin the car out on the top end trying to get stopped. After a couple of new tires (and a fresh pair of skivvies!) Keith got back on the horse to make things happen for Sunday's elimination rounds.
In the first round, he used the hard-earned bye awarded to the number one qualifier to decrease the record yet again, carding a 4.206 at only 176 MPH. The second round saw Berry put Justin Martin's gorgeous orange Nova on the trailer with a 4.28 to Martin's 4.45.
Round three brought the incredible 4.1938 at 185.49 MPH against Chris Daniel, with Berry earning the first official 4.1-anything in Outlaw Drag Radial to take the Radial record in the process - on a 1.13 short time, leading us to believe there's even more in this hotrod. The fourth round saw Rob Valden's 4.25 take a seat to Berry's 4.21 at 190 MPH blast, and then Berry cruised to a sweet 4.23 at 182 in the final against Bruce Johnson for the vent win.
And he did it all with a small block, folks.
An incredible weekend for the black beast, and only a taste of what's to come in the future.
Mark Carlyle Sets LSX Drag Radial World Record At NMCA Finals!
Mark Carlyle and his IPS Motorsports team have been the class of the LSX Drag Radial field for some time now, and this past weekend at the NMCA's World Street Finals at Lucas Oil Raceway in Indianapolis, they showed exactly why. The Lucas Oil Raceway team had the track surface prepped to insane standards, with Jeff Conley and his guys working the track at every opportunity to provide the competitors with a chance to turn in personal bests.

Carlyle did exactly that, three times during the course of the weekend. When the smoke cleared at the end of the qualifying sessions, Carlyle's Corvette had simply crushed the LSX Drag Radial record and reset it at an unheard-of 6.697 at 217.84 MPH – two-and-a-half tenths quicker than the nearest competitor, fellow Ohio resident and standout LSX competitor Mark Koehler.

During Sunday's elimination rounds, Carlyle appeared to play it safe, never running quicker than 6.82 but outclassing the field in all respects, going on to win the race over number seven qualifier Chuck Buckhart. He was never seriously tested during eliminations, as it seemed that each of his competitors encountered issues when the tree dropped.

Not only did he re-set his own record three times during qualifying, going quicker on every single pass when it counted, he did so using the factory-style independent rear suspension.



Tuning help from Patrick Barnhill and Jason Lee of Part Time Performance in Ohio keeps him on the straight and narrow. Carlyle's 2007 Z06 relies on a 427-cube Kurt Urban-built engine using a Dart billet block, All Pro cylinder heads, 106mm throttle body, and a pair of Garrett 88mm turbochargers.
KEITH HANEY RACING ENJOYS DREAM WEEKEND IN TULSA
Keith Haney and his Keith Haney Racing team enjoyed a dream weekend during the Throw Down in T-Town on Friday and Saturday at Osage Casino Tulsa Raceway Park.

Not only did the track co-owned by Haney and Todd Martin enjoy a successful run, but Haney ended up in victory lane after beating teammate Monroe Guest in the Legal Pro Mod final.

"It was an absolutely unbelievable weekend," Haney said. "Unbelievable. It was a weekend like no other."

To top it off, Haney's wife Dee and son Logan were at the top end of the racetrack to greet the winner.

"That was the first time my wife has stayed through a whole drag race," Haney said. "We've been married 16 years, and she had never stayed through a drag race.

"She and my son came to the finish line, and my son came jumping off the golf cart and ran to me and started crying. There hasn't been a better moment in my life."


Logan Haney had never seen his father win but that changed after Keith Haney made a pass of 3.979 seconds at 186.61 mph to beat Guest.

"This time he said, 'I want to drive the winner's car,' " Haney said, and Logan got behind the wheel as the car was towed to the winner's circle.

Haney also qualified No. 1 for the Legal Pro Mod field with a run of 3.972 at 187.50 mph in his RacingJunk.com/Lucas Oil Camaro and Guest was No. 3 in his Camaro.

The event featured other highlights, too. Brandon Pesz of Lethal Acceleration, who tuned both KHR cars, won the Pro Extreme class with a 3.670-second pass at 206.42 mph. Pesz nearly had to face Martin in the final, but Martin lost in the semifinals after winning the previous round on a holeshot over Frankie Taylor.

Before eliminations, Haney asked for a moment of silence to remember Kevin Bowen, the Pro Nitrous crew chief who was killed in a single-car accident near his home in Roxboro, N.C., on Oct. 4.

"It was just an unbelievable weekend," Haney said. "I couldn't have written a better script as a team owner. Monroe and I couldn't have been happier, and our team worked flawlessly all weekend. How do you top that? We qualify No. 1 and No. 3 and meet in the final round at your own race, a race that has become one of the top races in the country."

The Throw Down drew more than 35,000 race fans over the two days as well as a 142 race cars. Haney's cars were the stars, as they were wrapped in pink by Kryptonite Kustomz of Broken Arrow, Okla., in support of National Breast Cancer Awareness Month.

Numerous fans took their picture with the pink cars, and Haney sported a Cancer Sucks! T-shirt in support of that foundation.

Haney and Guest were actually first and second after the first qualifying session, though Guest was bumped to No. 3 in Q3.

Still, they were the cars to beat. Haney took Jeffrey Cummins Jr. in the first round and Dean Goforth in the semifinals to advance to the final. Guest beat Cale Aronson and Steve Matusek to set up the all-KHR final.

"Monroe and I always dreamed about meeting in the final round," Haney said. "We talked about it for the two years we've been together."

Guest tried his best to win the psychological battle but Haney was having none of it.

"Monroe was talking junk before the final round to the crowd: 'He's going to red-light.' We were having a ball," Haney said. "He was hassling me, but it didn't matter anyway because I ran a 3.97 and he didn't go anywhere."

Haney's pass of 3.979 at 186.61 easily beat Guest's 5.205 at 147.97 mph. The victory for Haney was his first since winning an NHRA Top Sportsman event at Royal Purple Raceway in Houston in 2009.

"The car was on a rail," Haney said. "That new Reher-Morrison motor we put in it worked out just fine."

The entire weekend went off nearly flawlessly.

"The staff at the track did a phenomenal job," Haney said. "We had 35,000 people in the stands on Friday and Saturday and had 142 race cars on the property. The fans were phenomenal, and we had some mean classes this weekend, too."


The Legal Pro Mod final was an all-Keith Haney Racing match that Keith Haney won.

Keith Haney won the Legal Pro Mod final by stopping teammate Monroe Guest.
Congrats to TEAM PROTORQUE for a stellar outing at the NMCA finals!!!
What a weekend for Team ProTorque !!!
It was a thriller of a weekend for everyone on Team ProTorque. With many records broken, #1 qualifier spots, and races won. The ProTorque Team racers also clinched several championships to seal the deal
In The ProStreet Class, TEAM ProTorque dominated with 3 out of the 4 top qualifying spots, including Kevin Fiscus for #1 spot. Jeff Lutz was runner up in ProStreet and the clinched the 2013 championship in NMCA ProStreet
IN NMCA Super Street Outlaw class it was Mike Murillo for a new record in SSO running a 6.374. Fellow team number Mark Micke ran a faster 6.373 but did not have the chance to back it up. Congrats to long time TEAM ProTorque member Mark Micke and Jason Carter for the 2013 championship. And of course Willard Kinser for the win!!
In Extreme Street it was Steven Wardlow and Billy Adams of "team Midnight" for the win and the new mph record of 185 mph.

They did this in the NMCA Xtreme Street Class with a car that had been sitting for 2 years and that they finished putting together at the track!

Steven also set the #NMCA record for the fastest pass in a nitrous car with a 7.75!!!


In the LSX Shootout it was TEAM ProTorque for the top THREE qualifiers. All with new personal bests and record setting performances. Kudos to Mark Carlyle, Tom Willings and Patrick Barnhill for the win and the new IRS World record running a BLISTERING 6.69 at 217 mph.

Mark Koehler ran 6.95 at 214 mph and Mike Brown ran 6.99 at 209 mph of Ohio boys racing for new personal best and BOTH breaking the 6 second barrier.

David Adkins for a new personal best with his promod LSX MOTOR 6.36 at 223 mph. And in other great Performances Louie Philipides became the fastest IRS 5th Gen is Pro Torque equipped! 8.39 @159 mph!
THROWDOWN AT T-TOWN
It was an ALL TEAM Final in Legal ProMod with BOTH of Keith Haney Racing cars in the final. Keith took the win over Monroe Guest in the final running a 3.97 @ 188mph over Monroe's 4.02 @ 186 mph

In Outlaw 10.5 it was Team ProTorque Member Mike Kimmis for the #1 qualifier and the Runner up as well as a new personal best of 4.27

It is the end of the year with great racing weather and even better track conditions so look out for some exciting news from other TEAM ProTorque members that will undoubtedly break more records and win more races.
Team MMR Resets Modular-Powered World Records At 6.04 And 246 MPH
California's Team MMR (Modular Motorsports Racing) made history this week with their incredible in-house Pro Street Ford Mustang, scorching the Auto Club Famoso Raceway quarter-mile in Bakersfield to the quickest and fastest modular-powered pass in drag racing history with a stunning 6.041 at 246.89 mph. The incredible lap eclipsed the existing elapsed time record set by John Mihovetz at 6.055-seconds earlier this season, and also topped their own speed record of 242.06 mph, which they set back in July at the NMRA/NMCA Super Bowl of Street Legal Drag Racing at the Route 66 Raceway near Chicago.
Team MMR, led by car owner Mark Luton and with accomplished racer Greg Seth-Hunter at the wheel, has been hot on the heels of Mihovetz over the last couple of seasons, trading blows with the fellow Californian for the outright Ford Modular performance standards. Seth-Hunter had run as quick as 6.08 in the car previously and came up just a few ticks short of that in Chicago in less-than-ideal conditions, running a stout 6.094 on the 242 mph blast, proving the turbocharged red rocket had something for Mihovetz later in the year.
Seth-Hunter's machine, surprising as it may be to many, is powered by a modified 2013 GT500 Mustang 5.4L production-based Modular engine, utilizing a factory alloy block with proprietary aftermarket MMR bore sleeves, heavily ported production GT500 DOHC cylinder heads, along with custom MMR camshafts and valvetrain components, all paired with a set of 88mm Garrett GTX4718R turbochargers and transferred through an automatic transmission. The large (relative to the smaller 4.6 Modulars) engine has a 4.165-inch stroke, but is still spun to over 9,600 RPM, providing the power to push the 2,500-pound car into a performance territory typically reserved for much larger, more powerful, and certainly more expensive combinations.
For those keeping score at home, Seth-Hunter tripped the sixty-foot clock in 1.024-seconds and was 4.040 at 193.02 mph to half track on the record-breaking run.
With a couple of major events left on the calendar for the West coast crowd, the five-second barrier for the Modular crowd could very well find itself in danger with Mihovetz and Seth-Hunter on the prowl. Stay tuned, because it could get interesting!
HANCE HAPPY WITH NO. 1 OUTLAW PRO MOD START Shakedown At Summit
Driving a '57 Pro Mod he called "almost old enough to vote," David Hance arrived ready to take on Summit Motorsports Park this weekend in the inaugural Shakedown at The Summit.

Hance, more than anyone else on the grounds, has a personal history intertwined with the event. He was its founder in 2003 and promoted it as the Shakedown at E-Town until last year at historic Old Bridge Township Raceway Park in Englishtown, NJ.

"It was interesting and it was fun for 10 years at Englishtown. Yes, it got tense at times, but we had a lot of great help. There were a lot of great people helping us, so many good people. Yes, I bore the financial responsibilities, but the workload was spread out and that's why the race was so good for so long over there," Hance said. "That said, it is a lot more relaxing this year."

Well, as relaxing as it can be covering a quarter mile in 5.870 seconds at 251.25 mph, as Hance did in Friday's lone qualifying session to start number one in the 32-car Outlaw Pro Mod field.Following him on the list were Troy Coughlin at 5.892 and a class-leading 252.61 mph, Jose Gonzalez with a 5.929 at 241.76 in his only pass during qualifying Saturday night, and Canadian Eric Latino, who closed out the five-second runs with a 5.936 at 243.55 mph.

"We just went out there, took a look at the track, the track looked good, so we put our 'A' tune-up in it. We just put something in it that we thought would fly--and it did," Hance said of his Friday-night heroics. "It probably should've went 5.83 or .84, but we broke a lifter about four seconds in, right about the eighth mile and she lay over on us. But I'm happy; other than that it was a really good run."

After multiple, lengthy rain delays the entire Shakedown field managed only one more round of qualifying for all eight classes and when it came to Hance's turn in Outlaw Pro Mod his '57 Chevy hiked the front wheels sky high when it reached half track and he had to abort the pass.

"We mounted up a pair of outlaw 98-millimeter Precision Turbos and went with a setting we'd never tried before and when those things snapped to life, it just overpowered the car," Hance described. "It was almost the very first Pro Mod blowover. We were going straight down the groove, but it just started rising and rising and when I couldn't see the scoreboard anymore through the windshield there was no point in continuing."

Hance said he's enjoying the number-one status in Pro Mod at the race he created after previously nailing down the top spot in Outlaw Radial at one Shakedown event and number two in Outlaw 10.5 at another.

"This is great, but it's a tribute to the crew and the guys I've got around me," Hance stated. "They know how to make a car work. My job is easy; all I have to do is let go of the button and hold on and the car does everything else."


Kevin Mullins PTC Radial vs the World Record 4.208
There was some great competition and some real upsets this weekend in PTC Radial vs the World with Kevin Mullins earning the win and a new record with a 4.208

Mullins was quicker every round Sunday meeting up with Candido Sanchez in the final running a 4.29 at 189 MPH for the win.

The High Point North Carolina racer runs a 1997 Mustang with a 521 cubic inch Hemi fed by twin turbos.


Wayde Moody National NHRDA Pro Stock Series Championship
Thank you everyone!!

After a very long season, with many ups and downs, our team was able to Dominate at the last event of the year with great success!! New World NHRDA ET record 7.46 @ 186!! on Friday. New National NHRDA Pro Stock Series Championship, on Saturday; New World NHRDA Pro Stock Championship clinched on Sunday!! Our Truck was within 7 hundredths of a second all weekend!! and we ran in the 7's almost every pass this year!!

We are very excited!! Great Job NHRDA!!

Gotta give it up to the ones who helped make it happen, couldn't have done it without the following people.

First and foremost, The Lord Jesus Christ, My Wife and son, My crew chief, Chris crafts, Matt, Cory, Johnboy, Joe from ProTorque

All my Sponsors
Flo Pro Performance Exhaust, Industrial injection, BorgWarner/Airwerks, Fuelab fuel pumps, M/T Tires, Santhuff, Pure power filters, Clevite, Victor Reinz, Nitrous express, xs power, R&R,NGM Diesel race engines Thank you so much everyone, we make a great team!!


Mo Hall Outlaw 10.5 Drag Racing Champion Atco Outlaws
Mo Hall MoHallmotorsports ET 4.10, MPH 185, 60FT 1.01, 330 ET 2.74, Event Name Outlaws @ ATCO, 9/14/2013, Event Class 10.5, Qualified No. 1, Finished Position. 1

Thanks to Joe and the entire team at ProTorque we are headed for faster ET's and way better MPH in our 10.5 nitrous car.

With all of the issues we have been dealing with this past month the one thing that was ALWAYS consistent was the converter.

We have found the power with Gene Fulton and Jim Halsey and the ability to get it to the ground WAY more efficiently through Protorque to keep up with the turbo filled class. This season began with some struggles. Joe cam e on board and has elevated our program to what we thought it should be. The new "drive plate" converter made the 330 numbers drop a solid 3 numbers on the first pass. Once we get a handle on this new one they really better watch out!

Thanks a ton for the steady customer support, it makes us ALL faster.


ProTorque Racing Torque Converters Modular Drive System At Yellow Bullet Nationals 2013
Joe Rivera from Pro Torque has been developing some new parts including a bolt together 9 1/2 inch converter. The revolution series 9 1/2 inch bolt together will be available for lower horsepower cars such as X275 and similar powered vehicles. The modular drive system has been under development for some time now and is nearly ready to come to market. The system reduces the rotating mass of the converter allowing the engine to accelerate quicker which has resulted in a decreased 60' times. Here this weekend testing it is Mo Hall, Tom Kempf, Nick Agostino among other racers. There are several Pro Mod Teams using the modular drive including Bill Lutz, Kevin Fiscus, Jose Gonzalez, Chip King and Troy Coughlin. Read The Full Yellow Bullet Nationals 2013 Review at Dragzine Here:
X275 Record holder Shane Fisher 4.55 at 159 mph Holly Springs MS 9/14/2013-ProTorque Racing Torque Converters
I'd like to give a big thanks to Joe at Pro Torque. I've been running ProTorque's Racing Torque Converters all year and set the x275 turbo record with it back in the spring. I decided to try ProTorque's Racing Torque Converters new Gen 2 Revolution series bolt together torque converter last week. We bolted it in and picked up 3mph and .03 out back with no other changes!!! Couldn't be happier with it! We are running numbers thought impossible a few months back!

JOHN KOLIVAS the baddest man on the planet with a turbo car! John has taken me under his wing and given my car more attention than anyone could ever ask for this year and the results have been phenomenal. Not just a tuner / race car guru but an all around great guy!

Thanks to my dad, Russell, for getting me into racing and being there for me every step of the way.

I'd like to thank Skinnyman / Racecraft for all the suspension parts and work you guys did over the winter and pointing us in the right direction. New to X275 Skinny has been there for us since day 1.

Wade and the guys at Southern speed have had a big hand in getting the car where it is the past couple of months. Wade's knowledge and help at the track is hands down A-1. Congrats to Wade / Shawn this weekend 1.09 / 60ft insane!

Bennett Racing engines for building such a power house. Service and results are more than anyone could as for! The guys obviously have it together, 2 of the fastest X275 cars this weekend running Bennett Power!

Neal racing transmisison for providing such a durable spot on tranny. Met Keith at the track friday night great guy and there to support his customers!

My wife, Deena, and family for allowing me to have the time to race!

Jabbo and the crew at Holly Springs for giving us a great place to race and always a killer track!

Thanks to all the racers in x275 and for all the kind words! I hope Im not leaving anyone out!!


Tom Kempf Outlaw 10.5 Small Block Record Holder First To The Teen's - ProTorque Racing Torque Converters
Worlds fastest 10.5 small block car .... First to the teens 4.18 @ 183

"Fastest LS was my goal, but now we are the fastest small-block on a 10.5," said Kempf.

In the engine bay of his Firehawk was his old-faithful Billy Briggs-built 454 cubic-inch LS-based engine designed around a Dart billet block and wearing Mast Motorsports canted-valve heads and fronted by a single 118mm Precision turbo, but he was putting to work a new ten-inch ProTorque converter and had swapped rear-end gearing from 3.70 to 4.10. His car weighed in at a super-light 2665 pounds and Keith Engling from Skinny Kid Race Cars was on-hand to tweak the chassis and give it what it wanted for the conditions.

Running Outlaw 10.5 at Milan Dragway. Billy Briggs Racing engines Billet LSx Small block with a Singe 118 Turbo Lafontaine Family Group, Skinny Kid Race Cars Chassis, Stenod Tuned, AMS 2000 Boost Management, Pro Torque Converters, .QC Coatings, Marcella Manifolds, DART billet block.

"This little Briggs engine just keeps going harder and harder," said Kempf. "He is the man. Special thanks also goes to Skinny Kid Race Cars, Stenod Performance for the awesome tune-up and quick changes at the track and the shop, LaFontaine Performance Center and Joe Rivera from Pro Torque."


Erica Enders NOS Promod And ProTorque Converters
Erica Enders Stevens admits it, the mere mention of nitrous with her status as a Pro Stock racer is taboo.

However, with her NHRA Pro Stock car parked due to lack of sponsorship, when Keith Haney offered a ride in his ADRL Pro Modified entry she looked past those taboo feelings.

In running the ADRL series, Erica learned the intricacies of racing to half-track. Driving a 500-inch Pro Stocker in the quarter-mile is a challenge, but in half the distance a nitrous Pro Mod is a true battle.

Right now, the nitrous car is as far as she wants to drift away from her Pro Stock roots, she'll take a pass on trying out a supercharger car. She'll leave that to her husband Richie Stevens.


Moits Racing Worlds Fastest 10.5 pass ProTorque Converters
After a few passes at Sydney Dragway, they'd already done it! Mouhayet piloted the XTF Mustang to a record breaking 6.03 @ 251.67mph pass! To add a little icing on the cake, they went out for another pass and showed that this is just the begining! They went 5.99 @ 252.95mph to reset the record.

This run stands as the quickest and fastest Australian Outlaw 10.5 pass and the World Speed Record on a 10.5 inch tire.


Tom Bailey Drag week 6.72 at 212 And ProTorque Converters
Tom Bailey showed up moments later in his '69 Camaro with his Steve Morris Racing Engines (who is now a dealer for ProTorque) rat motor and went "NEWS FLASH!! 6.72 at 212 pass and went 6.70, two days = two records. A real street / strip car running ProTorque Revolution Series Torque Converters


Kevin Fiscus NHRA Promod and ProTorque Racing Torque Converters
The new addition to Fiscus/Klugger Racing is this 2012 Mustang Pro Mod built by R2B2 Race Cars. This Mustang has four NHRA event wins including the 2011 Indy Nats while driven by Eric Dillard.


Scott Oksas NMCA Pro Street with ProTorque Converters
The night owls of the NMCA West lit up the evening with blistering passes and weekend's eliminations were packed with close wins. Garret Pro Street driver Scott Oksas put on a helluva' show for the fan-packed grandstands, laying down a handful of 250-plus-mph passes. In the end, the victorious few found themselves exhausted, smiling with Wally-in-hand in the Aerospace Components Winner's Circle.

Garrett Turbo Pro Street
Winner: Scott Oksas



Paul Major and Dywane Big Baddy Gutridge Yellow Bullet Nationals All ProTorque Converters Final
Paul Major (Winner) and Dwyane "Big Daddy" Gutridge square off in an all ProTorque Final at the Yellow Bullet nationals. Both racers made it through a strong feild in ODR with Major coming out ahead as Yellow Bullet Nationals ODR Champion.


ADRL, NMCA, MIR and More. A Winning Weekend For ProTorque Converters
WHAT A WEEKEND !!!!

I have been working like a red headed step child in the dungeon on some new stuff ...and its "ALMOST" time to release it, So let the "peacocking" begin. SO TEAM ProTorque did have a stellar weekend. We had a BUNCH of ALL TEAM ProTorque finals

Congrats to the following people...

Tom Kempf for the AMAZING 4.21 pass making him the world's fastest small block record holder. Picking up a full TENTH from a 4.31 to a 4.21 by putting in one of our Revolution Torque converters

The "Ohio Boys Racing" Mark Koehler and Mike Brown went to an ALL TEAM ProTorque final in Milan Michigan. Mike set some new personal best times ... IN AUGUST!!

Ricky Fox For the win at MIR this Friday Night in an ALL TEAM ProTorque Final against Steve Wooley

Jason Michalak for the ADRL win in Kyle Heutell car against Kevin Mullins runner up in and ALL TEAM ProTorque Pro Drag Radial. Kevin is one of the newest members to TEAM ProTorque running 186 mph !!! damn that car is FLYING watch for big numbers from him soon. He is also using our New Modular Drive plate series.

LateModel Racecraft took the win in Indianapolis running both the 5th gen Camaro Unlimited Class AND the shop car class with a 7.18!!! Get some!!! Michael Martin Wins the Back Half Shoot out at MIR....

Erica Enders Stevens for a great debut in Promod ADRL and Thank you Keith Haney for putting her in that car for a great debut performance...

Kevin Fiscus in his debut in ADRL ProMod running 3.94 at 196 mph ALSO using the NEW modular drive plate system

Jeff Lutz #1 Qualifier and for the NMCA win In Pro Street also using our NEW Modular drive plate

Two Great Racers had a tough weekend..... Mo hall #1 qualifier at Cecil County this weekend....., Mike Murillo #1 qualifier using our New Modular Drive plate series and says that there is a MARKETABLE improvement over the first Gen stuff. But unfortunately they both ran in to some troubles. Those cars are very fast and as always serious contenders

And my man and great friend John MF Kolivas!!!! That man knows more about torque converters than most guys in the torque converter business !! LOL Glad to have him on TEAM ProTorque. He wasn't using anything new... just some piece of crap from a few years ago. He just knows how to use it better than anyone else LOL

If there is anyone we missed please contact Chris@ProTorque.com

It is sometimes tough to keep up with our customers successful weekends


Vinny Ten Retrospective With ProTorque Racing Converters


Hey Joe,

I am so glad that you were not only part of my program but also a dear friend even though time marches on I'm happy on that day I was able to share this moment in history with you and also one of the best days of my life, I will be forever greatful to you and what we accomplished together!

I know many things have changed, however I always like to think what we accomplished that year has lead to whom we both are today!, God bless you Joe and your family as well as all the people at pro torque that help make it all possible.

Sincerely
Vinny Ten
Artis Houston, PSCA Wild Street Winner, Record's and ProTorque Converters
LAS VEGAS - In drag racing, heat is the great equalizer. When the weather is cool and overcast, the fastest (i.e. well-funded) racer tends to win. But when the track is slimy, greasy, and slick, that's when the skill of the driver comes into play. No matter the setup, when it's hot and humid, it takes a real shoe to get to the finish line first.

At the recent MagnaFuel PSCA Nationals at The Strip at Las Vegas Motor Speedway, Pacific Street Car Association veteran Artis Houston, a competitor in the Mickey Thompson Wild Street class, added to what has been an amazing year when he qualified No. 1 and set the class ET and Speed Records (4.952/148.69) on his way to the victory in the heat of the Nevada desert.

Houston was elated to hear the news, especially given the highs and lows of the last couple of seasons. "I am very excited to hear this news, especially considering the up and down journey of success and disappointment over the last few years," he said. "I want to personally thank John Calvert, Joe Rivera, Ross Pistons, Pettis Performance, BES Racing Heads, Induction Solutions, SCE Gaskets, Mike's Transmissions, Mark Washington, Mark Menscer and Eric Mitchell. Without these individuals pushing me forward and providing the best parts in drag racing, none of this would be possible."

Houston was also quick to recognize the staff of the PSCA for their efforts in providing drag racers with a safe and competitive series in which to race. "Thank you, PSCA, for giving us a great place to race and I look forward to continued progress and accomplishments."

PSCA President Mel Roth may not have been as excited about the weekend as Houston, but it was close. "We love seeing guys like Artis break records and have weekends like this," Roth said. "It may not be me going down the track, but when I see racers reach these milestones in their careers, I'm happy for them and proud of them. Plus, when racers are able to set records in those kind of temperatures, it's a huge day for both the driver and the fans."


The Latest Drag Illustrated Add Featuring Eric Dillard XDRL Pro Mod Camaro
Mo Hall Resets Outlaw 10.5 Nitrous Record Cecil County 4.12
Mo Hall of Mo Hall Motorsports qualified #2 in the tough Outlaw 10.5 Class of the Cecil County Street Car Shootout and went on to deliver the record holding number for a nitrous car. Backing up the record, Mo Hall lit the pipes on a searing 4.12 to become the quickest Outlaw 10.5 as of now, with a back up pass of 4.13, both in the 180MPH range also. Mo Hall immediately recognized the numbers aligned with the extra coupling power of his swap to the ProTorque Revolution Series Torque Converter.

Hall Stated "Our new ProTorque picked us up 6 hundreds first event out the box. Better from 60' to the 660' mark. Best backhalf numbers to date and by the way set the ET record for a nitrous car. Can't wait to get back out and see what we can do." in a testimonial to his findings. The Black Camaro is one of the more exciting rides in any Outlaw 10.5 Event. If Hall has found the power now to be on his numbers this early in the season there may be no telling where this will end for dropping records with each race.

Check Out GoneDragRacings Coverage of The May 4, 2013 - Cecil County Dragway / Finishline Performance Outlaw Street Car Shootout - Recap


Dillard Delivers Record Run In XDRL Pro Turbo Qualifying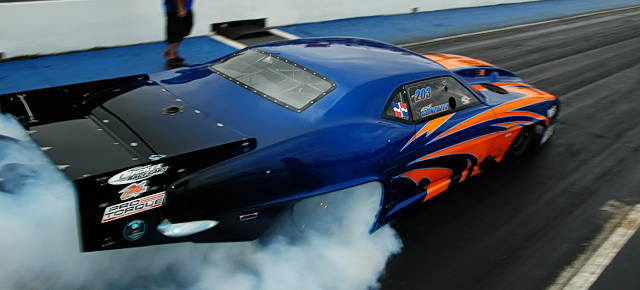 At the debut event for the new X-treme Drag Racing League (X-DRL) in Tulsa, Oklahoma, Eric Dillard made his own incredible history Apr. 7, by reaching a monumental turbocharger milestone.
Competing in the X-DRL's Precision Turbo & Engine Pro Turbo class, the Pro Line Racing co-owner became the first turbo doorslammer driver in drag racing history to reach the 3.70s in the eighth-mile, running a remarkable 3.796 at 209.79 mph. Dillard's picture-perfect pass came in the car of customer and noted turbo standout Jose Gonzalez and took place during the final qualifying session for the X-DRL Spring Nationals at Osage Casino Tulsa Raceway Park.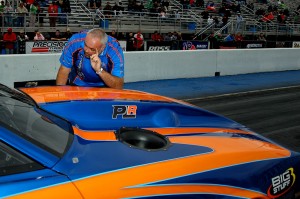 "It felt great. We were confident that run was going to be the one and it just felt great to put it on the scoreboard," Dillard said. "This has been a big deal for me. Jose owns the car and runs the car, and he wanted to support this class and the X-DRL. He knew a 3.79 was there and to let me come here and do it, I can't thank him enough. He's just excited and happy for everyone. This is just awesome to be able to do this."
Dillard had been closing in on the record all weekend, running a strong 3.83 at 206 mph right off the trailer. That was a career-best for the talented turbo driver, but crew chief Steve Petty continued to dial in the Jerry Bickel Race Cars Camaro. Dillard next ran 3.807 at 208.42 mph under the lights, just missing the mark during Saturday's final qualifying session, but that only motivated the team heading into Sunday.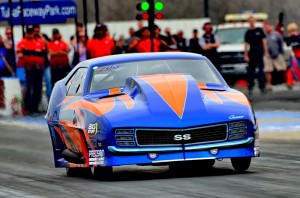 With excellent track conditions, Dillard responded with the history-making pass.
"It's just amazing. This 3.70s deal has been such a big hurdle and to get it, it's just awesome. We had it set up where we could do it on the last round of qualifying and it just came together," he said. "As soon as it hooked up, I knew it was there. By 300 feet, I knew the scoreboard was going to pop up with a 3.70. This was a big one."
Gonzalez's Camaro continues to turn in brilliant performances since it debuted last year, while Dillard also praised the work of Petty in making the turbocharger combination so consistent.
"He's so good at what he does. He's one of the best, that's for sure," Dillard said. "He was extremely confident today. He knew the 3.70 was there.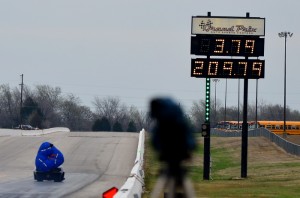 "There's a lot of people to thank, including Pro Torque and the guys at Rossler Transmission. For Harry (Hruska of Precision Turbo) to do what he's done and help put this (Precision Turbo & Engine Pro Turbo) class together to create a level playing field with these turbo cars, I can't thank him enough."
It's a monumental achievement for a team that has chased the mark for quite some time and Dillard, the 2011 U.S. Nationals Pro Mod winner and multiple-event winner, held the historic moment in high regard.
"For me, this is by far the biggest accomplishment I've ever had in my Pro Mod career," Dillard said. "This is so big for us and definitely the biggest milestone for me."
(Photos by Ian Tocher, Click to enlarge)
Drag Illustrated's Informative Website
For More!!
Latest Drag Radial Record Holders Featured In ProTorque's Drag Illustrated Ad
The racers that use the best converters for drag racing have begun the season in a big way!! ProTorque extends their profiles for reaching the largest of goals with the season just opening. From Kyle Huettel's Quickest Drag Radial Car "Bad 9er" 4.21 @ 177, Jere Ethridge's nearly impossible save from a world famous video and photo array on the internet as it "Literally Flew" due to the down track coupling efficiency of the Revolution Series Racing Torque Converters.

Jason Enos picked up the title of "World's Fastest Turbo Drag Radial Car" dropping a massive 188MPH on the boards. Keith Berry stopped the clocks in with the title of LSX Drag Radial Record Holder 4.40 @ 174 and John Kolivas would render the 275's another part of speed and efficiency success of the ProTorque Racing Torque Converters 4.39 @ 176 "World's Fastest On 275's"

Make Sure to Stop In At Drag Illustrated's Informative Website For More!!