MIR Door Warz Race Recap Of ProTorque's Racers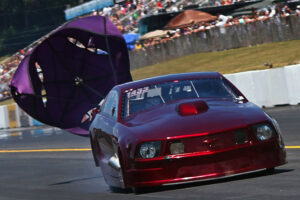 The rain may have dampened the weekend with an early rain expected before it could finish but as usual it showed how well our converters again performed in one of the first real races of the season with classes combined in Outlaw 10.5, Outlaw Drag Radial and the beasts of the 1/4 mile "Pro Modifieds".
The Northeast Outlaw Pro Mod Association opened its season with record speeds laid down by Steve Drummond "Drummond Race Cars" and his 540ci, twin Precision turbo powered Mustang putting up a new MIR track record of 245.76 MPH. Steve Drummond unleashed the reins on the stunning burgundy Mustang hooking hard on Hoosiers right down Broadway to this electrifying number. MIR "Maryland International Raceway" has been said to be one of the quickest and fastest tracks in the Mid Atlantic States.
Michael Martin may become a household name if his NOS powered Camaro and his teams stay this course topping the ladder in Outlaw 10.5 with the number one qualifying spot of 4.263 @ 170.32 to the 1/8th mile.
Outlaw Drag Radial also saw ProTorque customers Paul Major "turbocharged" 4.474 @ 180.94 and Ricky Fox "nitrous" 4.510 @ 167.14 qualify number one and two respectively in the 1/8th mile competition before the day had to end. Expect More ProTorque Converter Racers to find their way into the winners circle or grab a new record. The season is just beginning.