WALSH CLAIMS FIRST EVENT WIN AT SUMMIT NHRA NATIONALS IN NHRA PRO MOD DRAG RACING | ALL PROTORQUE FINALS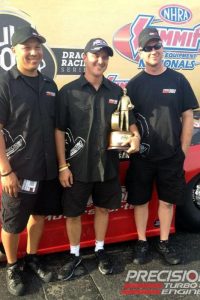 ProTorque Claimed Three of the four qualifiers, Low ET and high MPH, And an ALL ProTorque Final. WALSH CLAIMS FIRST EVENT WIN AT SUMMIT NHRA NATIONALS IN NHRA PRO MOD DRAG RACING.
1 24 Troy Coughlin,'68 Camaro 5.949 250.64 250.64
2 43 Rickie Smith, '12 Camaro 5.951 241.50 241.50
3 3382 Donald Walsh, '11 Mustang 5.983 248.71 250.74
4 272 Roger Burgess, '53 Corvette 6.001 249.90 249.90
Three of the top four qualified drivers had two things in common: they were running Precision turbochargers and using Pro Torque converters! It was Troy Coughlin who took the number one honors with his 5.949 at 250.64 MPH pass in his '68 Chevy Camaro, while Don Walsh, Jr. ranked third with a 5.983 at 248.71 MPH run in his '11 Ford Mustang. Roger Burgess of R2B2 Racing was the number four qualifier after having gone 6.001 at 249.90 MPH in his '53 Corvette and his teammate Leah Pruett was eighth overall with a run of 6.098 at 248.25 MPH. Steve Matusek was unable to break into the Top 16 but still had a solid run.
In the first round of eliminations, Walsh had a great run and scored a win with his 5.955 at 252.14 MPH trip, while Burgess was also victorious going 6.159 at 219.69 MPH. Coughlin's opponent broke at the start so he had an easy victory, but still put in a strong pass of 6.180 at 223.32 MPH. Pruett was first off the line in her match but was unable to hold off her challenger, going 6.328 at 240.55 MPH.
In round two, all three remaining Precision boosted drivers won their races and would all advance! Walsh went 5.896 at 246.21 MPH, Coughlin went 5.909 at 250.83 MPH and Burgess went 6.024 at 249.26 MPH. Moving on the semi-finals, Coughlin faced off against Burgess and Coughlin's flawless run straight down the groove resulted in a 5.973 at 250.74 MPH pass, putting him into the finals. Walsh took out the only non-PTE car left with a huge 5.887 at 253.85 MPH run and would face off against Coughlin.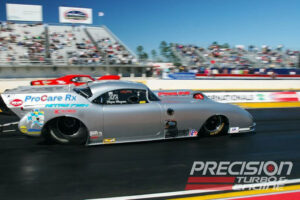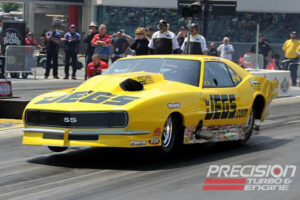 The final round was all Precision-powered and incredibly exciting as this was the first time that Coughlin and Walsh would face each other in eliminations. Coughlin had the early starting line advantage but the car started to get sideways and forced him to shut it down. Walsh launched hard and went straight down the center of the track, running a 5.893 at 251.95 MPH pass – the second quickest and fastest pass of the event, for the win!
Congratulations to Don Walsh, Jr. on his first National event win in only his second final round! With this victory, Walsh moves to fourth in the series points standing. He runs twin NHRA legal Precision Pro Mod 88 turbochargers, a Big Stuff 3 Powertrain Management System and a Pro Torque converter.