Mark Koehler – 2012 Holley LS Fest LSx Drag Radial Winner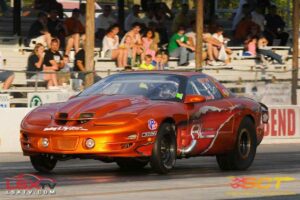 After his shutoff pass in the opening session, Mark Koehler came back for round two and made a big statement, running 7.679 at 183.05 MPH to put an even larger gap between himself and the rest of the field.
Mark Koehler stepped it up in the final session, storming to a great 7.559 at 189.18 MPH to solidify his top qualifying spot going into this afternoons eliminations.
Mark Koehler got the benefit of another break single, legging it out to a mostly nice and straight 7.612 at 185.21 MPH. In the final round, he'll face #2 qualifier Steven Fereday, who was slow to get rolling but had enough to chase down Adam Preston on the top end, 7.998 at a booming 190.57 MPH to a game 8.194 at 168.85.
The Drag Radial final ended up just as it should be, with the top two qualifiers and the only two cars to dip into the 7's all weekend facing off for all the marbles. Mark Koehler was dead late, but made his best run of the weekend to top Steven Fereday, whose 7.932 was no match for Koehler's 7.511 at 189.60 MPH.