Tom Kempf Outlaw 10.5 Small Block Record Holder First To The Teen's – ProTorque Racing Torque Converters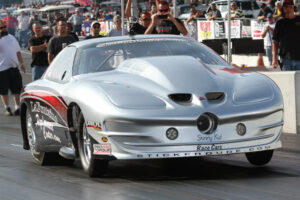 Worlds fastest 10.5 small block car …. First to the teens 4.18 @ 183
"Fastest LS was my goal, but now we are the fastest small-block on a 10.5," said Kempf.
In the engine bay of his Firehawk was his old-faithful Billy Briggs-built 454 cubic-inch LS-based engine designed around a Dart billet block and wearing Mast Motorsports canted-valve heads and fronted by a single 118mm Precision turbo, but he was putting to work a new ten-inch ProTorque converter and had swapped rear-end gearing from 3.70 to 4.10. His car weighed in at a super-light 2665 pounds and Keith Engling from Skinny Kid Race Cars was on-hand to tweak the chassis and give it what it wanted for the conditions.
Running Outlaw 10.5 at Milan Dragway. Billy Briggs Racing engines Billet LSx Small block with a Singe 118 Turbo Lafontaine Family Group, Skinny Kid Race Cars Chassis, Stenod Tuned, AMS 2000 Boost Management, Pro Torque Converters, .QC Coatings, Marcella Manifolds, DART billet block.
"This little Briggs engine just keeps going harder and harder," said Kempf. "He is the man. Special thanks also goes to Skinny Kid Race Cars, Stenod Performance for the awesome tune-up and quick changes at the track and the shop, LaFontaine Performance Center and Joe Rivera from Pro Torque."