WALSH CARRIES PRO MODIFIED DOMINATION INTO SUNDAY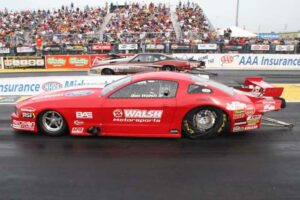 Don Walsh raced to his third consecutive No. 1 qualifying position and then claimed an opening round victory in the NHRA Pro Mod Drag Racing Series presented by ProCare Rx portion of the AAA Insurance NHRA Midwest Nationals when Scott Ray was unable to make the call in his '53 Corvette following his top end crash yesterday.
Walsh took the No. 1 qualifying position with a track record performance of 5.816 seconds at 255.43 mph and then sped to the opening round win by powering his late-model Ford Mustang to an effort of 5.856 at 252.57.
Other first round winners included track speed record holder Troy Coughlin, series points leader Mike Castellana and Charlotte winner Leah Pruett.
Second round pairings include Walsh vs. Mike Janis, Danny Rowe vs. Castellana, Donald Martin vs. Pete Farber and Pruett vs. Coughlin. Eliminations for the NHRA Pro Mod Series continue Sunday at approximately 2:30 p.m.
First-round Pro Mod results from the Inaugural AAA Insurance NHRA Midwest Nationals at Gateway Motorsports Park, the ninth of 10 events in the NHRA Pro Mod Drag Racing Series presented by ProCare Rx :
ROUND ONE — Mike Janis, Ford Mustang, 5.883, 245.00 def. Raymond Commisso, Chevy Camaro, 5.964, 248.11; Troy Coughlin, Camaro, 5.910, 257.97 def. Rickie Smith, Camaro, 5.966, 243.55; Pete Farber, Dodge Daytona, 6.353, 218.19 def. Mike Knowles, Camaro, 11.229, 77.20; Donald Martin, Camaro, 5.875, 247.16 def. Clint Satterfield, Camaro, 6.006, 241.20; Mike Castellana, Camaro, 6.293, 229.31 def. Steve Matusek, Mustang, 6.358, 183.00; Danny Rowe, Camaro, 5.921, 245.49 def. Kenny Lang, Camaro, 6.039, 243.11; Leah Pruett, Mustang, 5.894, 251.95 def. Harold Martin, Chevy Corvette, 6.147, 211.76; Don Walsh, Mustang, 5.856, 252.57 def. Scott Ray, Corvette, broke;