Abdullah Al Shatti Q80 Racing Super Street 8 Record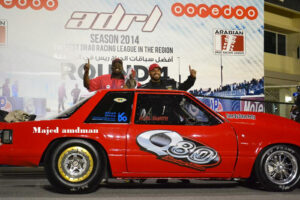 Abdullah Al Shatti / Q80 Racing in testing, recently laid down an absolutely killer pass on 10.5×29 tires that stunned small tire racers around the world. His 4.29 @ 188.9 1/8th mile pass was accompanied by a 1.16 sixty foot time, with a 2.97 to the 330.
This is believed to be one of the fastest passes on a 29′ tire. The combination behind this record run was an 632 Ford twin turbo powerplant (tuned by Steve Petty), a ProTorque Revolution series converter that transferred the mega horsepower to a Rossler transmission.
Keep an eye on this team, they are sure to be in the hunt for a championship belt in Super Street 8 competition.