New 1,000-2,000hp U9 Converters Now Available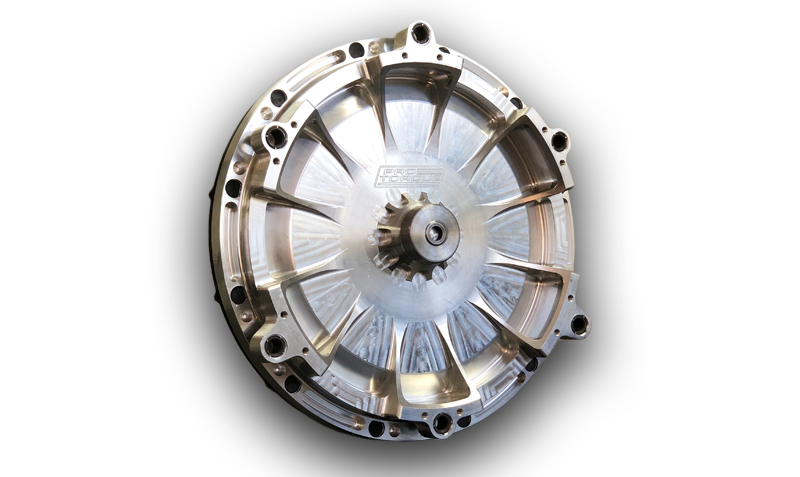 Medford, NY – June 6, 2019 – PROTORQUE PERFORMANCE PRODUCTS has introduced a revolutionary new torque converter to its current lineup. Developed specifically for 1,000-2,000 horsepower street cars and race applications including Ultra Street, NHRA Factory Stock, NMRA Renegade, and more, ProTorque's U9 torque converter is now available for GM TH350/TH400/Powerglide 30-spline transmissions.
Building on the same cutting-edge technology found in ProTorque's wildly successful Revolution series converters, the U9 series is the next step in the evolution of performance torque converters and progresses torque converter advancements even further.
ProTorque originally created the U9 converter as a replacement for traditional 8" or 9" converters used in racing for the past half-century. After extensive testing, however, ProTorque discovered that its U9 converters have more capacity than any of its predecessors and are perfect for the 1,000-2,000 horsepower range. ProTorque's U9 converters are bigger than a traditional 8" and smaller than a traditional 9", but still support more power than either other unit.
The U9 converter from ProTorque is unique in that it offers a tremendous level of flash stall while still locking up to only lose a few percent out the back. Additionally, a newly designed, all-aluminum machined back cover is built to be exceptionally strong yet surprisingly light. ProTorque continues to push the envelope in all types of performance torque converter technology, and the new U9 series enables racers to benefit from the past decade-plus of innovation.
With nearly two years of dedicated research, development, and on-track testing and refining, ProTorque's U9 program has found great success. Because of the wide power range the U9 converters support, racers in a variety of classes have been able to win races, secure championships, and set records. Drivers like Ron Rhodes, Joel Greathouse, John Kolivas, Frank Varela, Haley James, Geo Castillo, Carmen Damiani, JJ Da Boss, Lou Iacopetti, Martin Connelley, and many grudge racers all trust the U9 converter to get them to the stripe first.
U9 FEATURES:
• Lightweight 7075 T6 billet aluminum bolt-together drive cover
• Fully CAD/CAM designed and CNC-machined
• Integral strengthening struts provide extra support in critical areas to prevent flexing or ballooning
• Rotating mass is reduced by removing material from non-critical areas
• Fully radiused to prevent stress risers
• 6 mounting locations to accommodate both large and small bolt pattern flex plates
CUSTOM DESIGNED HARDWARE:
• 12 custom Aerospace (4340 rolled thread) fastening studs
• "Safe-D" stud technology which are indexed into the aluminum front cover to provide a safe and secure way to keep both halves of the converter in constant compression
• Steel Keenserts provide the safest and strongest method to attach the flex plate to the converter
CUSTOM BILLET STATOR:
• Custom billet stators have been CAD/CAM-designed and CNC-machined from solid billet steel or billet aluminum
• 10 strut mechanical diode or spragless configuration
• Many options are available for tunability in specific combinations and conditions
• Future custom stator designs will allow infinite adjustability to fine tune power application
• Allen head jacking bolts provided to ease disassembly
ProTorque's incredible U9 series converters for the GM TH350/TH400/Powerglide 30-Spline are now available. Prices range from $1,799 USD for a weld-together unit to $2,999 USD for the aluminum bolt-together version, and ProTorque's U9 torque converters will be game changers for the associated power levels. Enthusiasts who want to push their programs father are invited to experience what having the highest level of technology and manufacturing expertise can do where and when it matters most.
To learn more, or to order, please visit www.ProTorque.com or call ProTorque directly at (631) 218-8700.
About ProTorque Performance Products:
Based out of Medford, New York, ProTorque was founded in 1983 and has grown from a small, local torque converter rebuilder, to a full-line manufacturing facility with a research and development division and worldwide marketing and sales capabilities. Since its inception, ProTorque has focused on quality and quality has been the reason for its phenomenal growth and customer loyalty. In 2016, ProTorque became ProTorque Performance Products and moved into a new state of the art facility where they devote all resources to motorsports and high performance. For more information, visit online at www.ProTorque.com, "like" ProTorque Performance Products on Facebook at facebook.com/ProTorque and follow ProTorque on Instagram at @ProTorque. Tag #TeamProTorque to be featured.
Contact:
Joe Rivera | P: (631) 218-8700| E: sales@protorque.com | W: www.protorque.com
Media Contact: 
Ainsley Jacobs| P: (267) 738-2134 | E: ainsley@PTENmarketing.com | W: www.PTENmarketing.com | P.TEN Marketing
###