Proline Racing Engines Debut ADRL Pro Extreme Mustang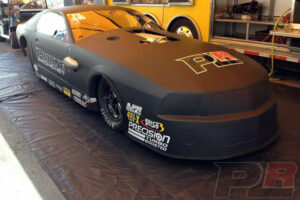 Pair the best torque converter with the most elite of racing engine's "ProLine Racing Engines" and you make a ride worthy of press the second it rolls out the trailer door. Everyone has been waiting for this new car out of ProLine to see the asphalt and make a pass with its precision turbo boosted 481x motor between the frame rails backed by a revolution series torque converter and Rossler trans.
The new car made its debut at ADRL Bristol this past weekend working out bugs with Danny Lowry at the wheel. Don't expect the new car bugs to last longer than one of the usual ADRL Pro Extreme passes, this is ProLine Racing we're talking about !!