ProTorque Launches New Drag Illustrated Customers Ad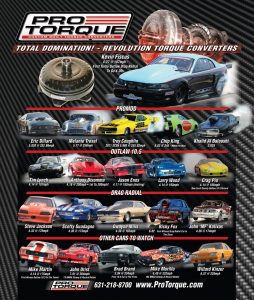 Everybody reads, it, everybody knows it "Drag Illustrated." The need for this style of advertising is essential when you have record setters as ProTorque does. We try to update this with our finest performers so the world can see the effects of our Torque Converters and how much we appreciate their hard work and racing.
The image enlarges to a bigger size in a new window upon clicking it. More of our racers can be seen in many sections of this website.
ProTorque States on Facebook. So there are some changes to this ad with some new players making the ad including Chip King, KH Balooshi, Craig Pio, Ricky Fox and Mike Michael Martin, Looks like the NOS guys are making a SPLASH largely !!