Worlds QUICKEST Turbo Pro Mod Car ADRL Virginia | Danny Lowry 3.802 @ 203.40mph: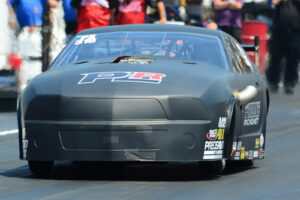 RICHMOND, VA (June 23rd) -The ADRL U.S. Drags V event at Virginia Motorsports Park was full of ups and downs for Pro Extreme racer Danny Lowry. However, the ups far outweighed the downs as he and the Pro Line Racing crew sent out a message to the racing world. RECORD SETTING VIDEO INCLUDED HERE!!
With one marvelous run, ADRL Pro Extreme driver Danny Lowry became the guy everyone will look up to in the turbo world.
Lowry, though, will admit to having plenty of help to reach his current pinnacle.
At the recent ADRL U.S. Drags V at Virginia Motorsports Park, Lowry put together the quickest turbocharged pass in drag racing history, running an incredible 3.802 en route to a first round win in Richmond.
The remarkable 3.802 eclipses Grant McCrary's 3.84 for the quickest 1/8-mile pass for any turbo-powered car. It also tops the 3.844 and the 3.868 that NHRA Pro Mod drivers Brad Personett and Melanie Troxel ran, respectively, during their passes of 5.772 at Englishtown in 2011.
Troxel set the NHRA Pro Mod record with her 5.772 in the quarter-mile, but Lowry and his 2009 Mustang built by Joey Martin Race Cars can now lay claim to the quickest 1/8-mile turbo pass in the history of the sport, something he doesn't take lightly.
"It's something that, being a turbo guy, I've dreamed about for a long time. I'm thrilled to get the opportunity to do this, but I'm also able to do this for a lot of reasons," said Lowry, a Griffin, Ga. native. "It's a credit to Eric Dillard at Pro Line Racing, Harry (Hruska) at Precision Turbo and Joe Rivera at Pro Torque Converters.
"His combination of torque, the power of the Precision Turbo, Pro Line engines and Rossler Transmission, it really gives you the opportunity to do this. I think something like this is a testament to the entire turbo community. Now that we've figured this out, we're going to run really fast."
Lowry is already there, clocking an impressive 203.40 mph during the record-breaking run after qualifying No. 14 with a 3.85 at 198 mph.
The run is made all the more eye-opening when the conditions are taken into account as well, as the track temperature neared 120 degrees during the 3.802.
The run also gave him a first-round win against Alex Hossler, though Lowry is still kicking himself over what happened a round later.
Potential opponents Todd Martin and Brandon Pesz both broke, giving Lowry a bye run to the semifinals. But, with the sun making the tree hard to see, Lowry left before the tree was activated, throwing away a run he guessed to be in the "low-to-mid 3.70s."
"We figured low-to-mid 3.70s at 207 or 208 mph. But I bumped the car into the second bulb and I could barely see the light. I thought the tree had dropped, but I left too soon and made a mistake," Lowry said. "When you get down to it, it was driver error and I didn't do my job.
"We pulled through the first 60 feet and the front split a lot better, and (tuner) Steve (Petty) could sense it was a fast run."
The real payoff could come next week at the ADRL Summer Drags VIII at U.S. 131 Motorsports Park in Martin, Mich.
Lowry left Virginia disappointed over the end outcome in Virginia, but he remains fully confident in the potential still to be tapped in his turbo Mustang.
"I fully anticipate rolling the car out in Martin and running a mid-3.70s at least," Lowry said. "From there, our goal is to qualify in the front half of the field and dip into the 3.60s. I don't want to act like a jerk or like I'm bragging or anything, but that's our expectations."
It's not arrogant, but rather just Lowry's aggressive mindset, which dates back to his outlaw 10.5 racing days.
After Martin built the standout lightweight Mustang for the ADRL's Pro Extreme class, Dillard and Lowry, who had worked closely in Lowry's 10.5 racing days, felt as though it would be a perfect car to become a turbocharged standout.
After plenty of work and finding the right combination for the lightweight car, Lowry made his ADRL debut in Bristol in April after only two test sessions.
The car showed promise, running a 3.933 at 188 mph, but it wasn't enough to qualify.
Lowry, Dillard and Petty made the necessary changes, tweaking the converter and chassis and left Virginia with a record and a standout performance.
Lowry, though, is certain the best is yet to come.
"These guys in the ADRL are really, really good and I have a great deal of admiration for them as drivers," Lowry said. "But I think our turbo combination is going to be really good and hopefully it's going to be hard to beat when we get it where we want it."