ADRL Dragstock: Brad Brand XTF Champion
THE WINNING BRAND – XTF Winner: If Brad Brand had his way, he may not have won the Extreme 10.5 (XTF) class at Dragstock IX.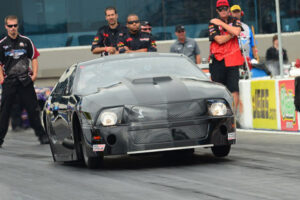 "I hadn't been down the track good at all and if it hadn't been for one of my crew guys I probably wouldn't have made it again," the Loganville, GA, racer admitted after beating Dan Myers in the XTF final at zMAX Dragway in Concord, NC. "He convinced me to turn things down and I'm glad he did."
With a 3.984-seconds pass at 197.59 mph, Brand qualified his twin-turbocharged 2007 Mustang third in the eight-car field behind Billy Glidden and polesitter Alan Pittman, but once eliminations began he fought to find traction on the hot zMAX racing surface.
A tire-spinning 4.442 at 171.93 managed to boost Brand past an even more traction-challenged Todd Moyer in round one and a 4.497 at just 139.57 still advanced him from the semis when Glidden got out of shape and had to shutoff and coast to a seven-second finish.
"This morning in the first round when we smoked the tires I thought, 'Man, it's going to be a rough day,' but it turned out to be okay. But seriously, we struggled all day and I'm just kind of stubborn about turning this thing down. But I just had to turn it down for the final and it worked," Brand said after posting a winning 4.069 at 195.28 against Myers' 4.727 at 119.98-mph effort.
"Man, I pedaled and it went into a big, turbo-like wheelstand just past half-track," Myers said of his screw-blown '57 Chevy from Ramona, CA. "I had to get out of it just to save the car."
Three times Brand has raced the Mustang with the ADRL this year and three times he's reached the final round, recording a runner-up finish to Pittman in April at Bristol, TN, but beating Pittman in June at Richmond, VA, before scoring again at zMAX.
Brand also was racing a turbocharged '53 Corvette for R2B2 Racing at Dragstock IX, but narrowly missed getting it into the eight-car Pro Mod field for eliminations after he and Pete Farber ran identical 4.009 ETs in qualifying. At 191.10 mph, however, Farber was faster by .40 to take the final spot.
"I don't even touch this car (Mustang) between races and it almost seems like I can do nothing wrong with it," Brand said. "But the Vette is completely another story. I'm behind the eight ball with that thing. I've got a lot of testing to do with it."