Joe Rivera And ProTorque Converters In Drag Illustrated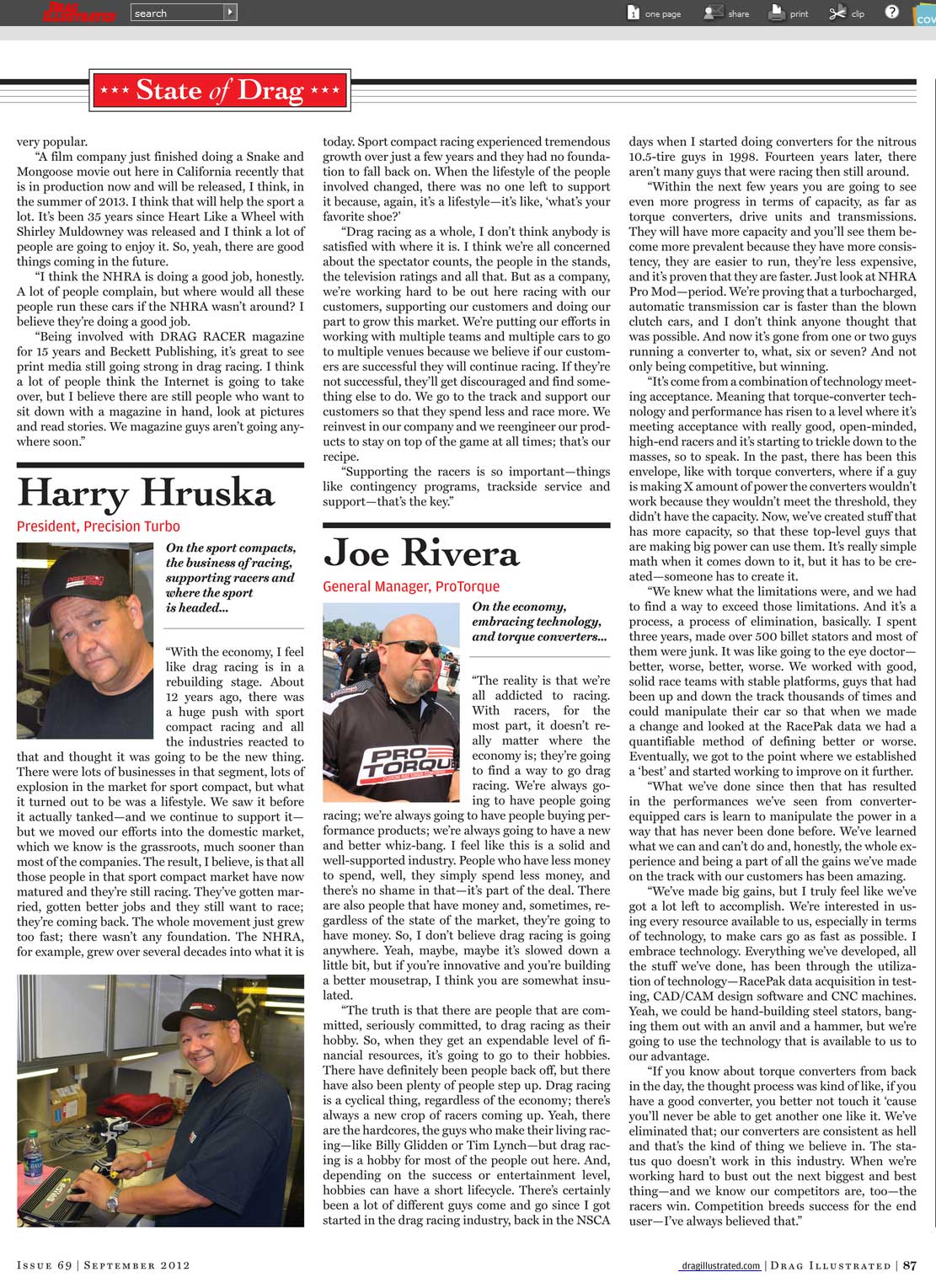 A Short Excerpt From "Joe Rivera" in the latest Drag Illustrated, Click To Enlarge The Article Or Vist Drag Illustrated For More Great Reading.
What we've done since then that has resulted in the performances we've seen from converter-equipped cars is learn to manipulate the power in a way that has never been done before. We've learned what we can and can't do and, honestly, the whole experience and being a part of all the gains we've made on the track with our customers has been amazing.
ABOUT DRAG ILLUSTRATED
Ultimately, Drag Illustrated is dedicated to the positive growth of the sport of drag racing, and hopes to achieve that goal by providing the definitive racer-centric magazine written for serious drag racers and enthusiasts by serious drag racers and enthusiasts. For DI, it's all about maintaining a sharp focus on the rock stars of the sport, and on the strategies, equipment, and experiences that get them to the finish line first. Drag Illustrated is not affiliated with, nor is it bound by, any sanctioning body or association. Therefore we are free to cover a wide variety of cars, classes, events, locations, and most importantly, people. DI provides a unique perspective not available anywhere else. From cutting-edge stories on underground grudge and outlaw racing to organized heads-up doorslammer action and the stars of the NHRA's top-tier categories, Drag Illustrated shines the spotlight on the hottest human-interest stories in drag racing. When drivers, builders, and hardcore fans want the unbiased truth, Drag Illustrated is where they turn. Drag Illustrated is direct-mailed monthly to paying subscribers and a very specific list of drag racers, builders, and serious enthusiasts. It's an "insiders" magazine, and for advertisers that means you reach your target demographic without paying for extraneous reach and weekly frequency. Great photos, timely and compelling stories, and finely-crafted graphics in full color on every page set DI apart from the competition. Best of all, Drag Illustrated is available every month for free. We publish the industry's highest quality digital magazine, which is freely accessible and allows readers to not only read the stories and see the photos, but also to share, print, zoom in or download the content to their own computer.