NMCA West, Bowman And Wallace Win With ProTorque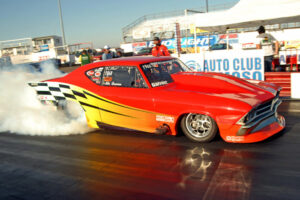 In Garrett Pro Street, John Scialpi set the high-water mark in his screw-blown '57 Chevy with a 6.17 at 229 miles per hour. As the class whittled down, Scialpi found himself in the final round facing Mike "The Showman" Bowman. Scialpi left first but Bowman pulled past and took the win as Scialpi slowed on the top end, running a 6.85 to Bowman's 6.40.
ARP Outlaw 8.5 was the Cedric Washington show, as he took the top qualifier spot with an 8.42 at 137 miles per hour, and then proceeded to the final round. There, he faced T. Wallace. Wallace took the reaction time advantage, but Washington was able to run him down on the top end and take the win light.