Artis Houston, PSCA Wild Street Winner, Record's and ProTorque Converters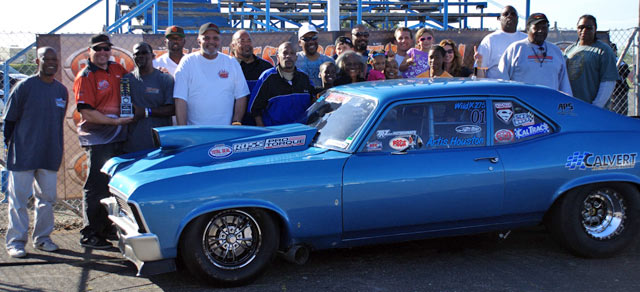 LAS VEGAS – In drag racing, heat is the great equalizer. When the weather is cool and overcast, the fastest (i.e. well-funded) racer tends to win. But when the track is slimy, greasy, and slick, that's when the skill of the driver comes into play. No matter the setup, when it's hot and humid, it takes a real shoe to get to the finish line first.
At the recent MagnaFuel PSCA Nationals at The Strip at Las Vegas Motor Speedway, Pacific Street Car Association veteran Artis Houston, a competitor in the Mickey Thompson Wild Street class, added to what has been an amazing year when he qualified No. 1 and set the class ET and Speed Records (4.952/148.69) on his way to the victory in the heat of the Nevada desert.
Houston was elated to hear the news, especially given the highs and lows of the last couple of seasons. "I am very excited to hear this news, especially considering the up and down journey of success and disappointment over the last few years," he said. "I want to personally thank John Calvert, Joe Rivera, Ross Pistons, Pettis Performance, BES Racing Heads, Induction Solutions, SCE Gaskets, Mike's Transmissions, Mark Washington, Mark Menscer and Eric Mitchell. Without these individuals pushing me forward and providing the best parts in drag racing, none of this would be possible."
Houston was also quick to recognize the staff of the PSCA for their efforts in providing drag racers with a safe and competitive series in which to race. "Thank you, PSCA, for giving us a great place to race and I look forward to continued progress and accomplishments."
PSCA President Mel Roth may not have been as excited about the weekend as Houston, but it was close. "We love seeing guys like Artis break records and have weekends like this," Roth said. "It may not be me going down the track, but when I see racers reach these milestones in their careers, I'm happy for them and proud of them. Plus, when racers are able to set records in those kind of temperatures, it's a huge day for both the driver and the fans."