Mo Hall Resets Outlaw 10.5 Nitrous Record Cecil County 4.12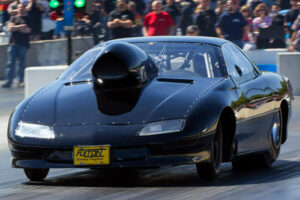 Mo Hall of Mo Hall Motorsports qualified #2 in the tough Outlaw 10.5 Class of the Cecil County Street Car Shootout and went on to deliver the record holding number for a nitrous car. Backing up the record, Mo Hall lit the pipes on a searing 4.12 to become the quickest Outlaw 10.5 as of now, with a back up pass of 4.13, both in the 180MPH range also. Mo Hall immediately recognized the numbers aligned with the extra coupling power of his swap to the ProTorque Revolution Series Torque Converter.
Hall Stated "Our new ProTorque picked us up 6 hundreds first event out the box. Better from 60′ to the 660′ mark. Best backhalf numbers to date and by the way set the ET record for a nitrous car. Can't wait to get back out and see what we can do." in a testimonial to his findings. The Black Camaro is one of the more exciting rides in any Outlaw 10.5 Event. If Hall has found the power now to be on his numbers this early in the season there may be no telling where this will end for dropping records with each race.
Check Out GoneDragRacings Coverage of The May 4, 2013 – Cecil County Dragway / Finishline Performance Outlaw Street Car Shootout – Recap