FRESH NEW LOOK FOR PROTORQUE.COM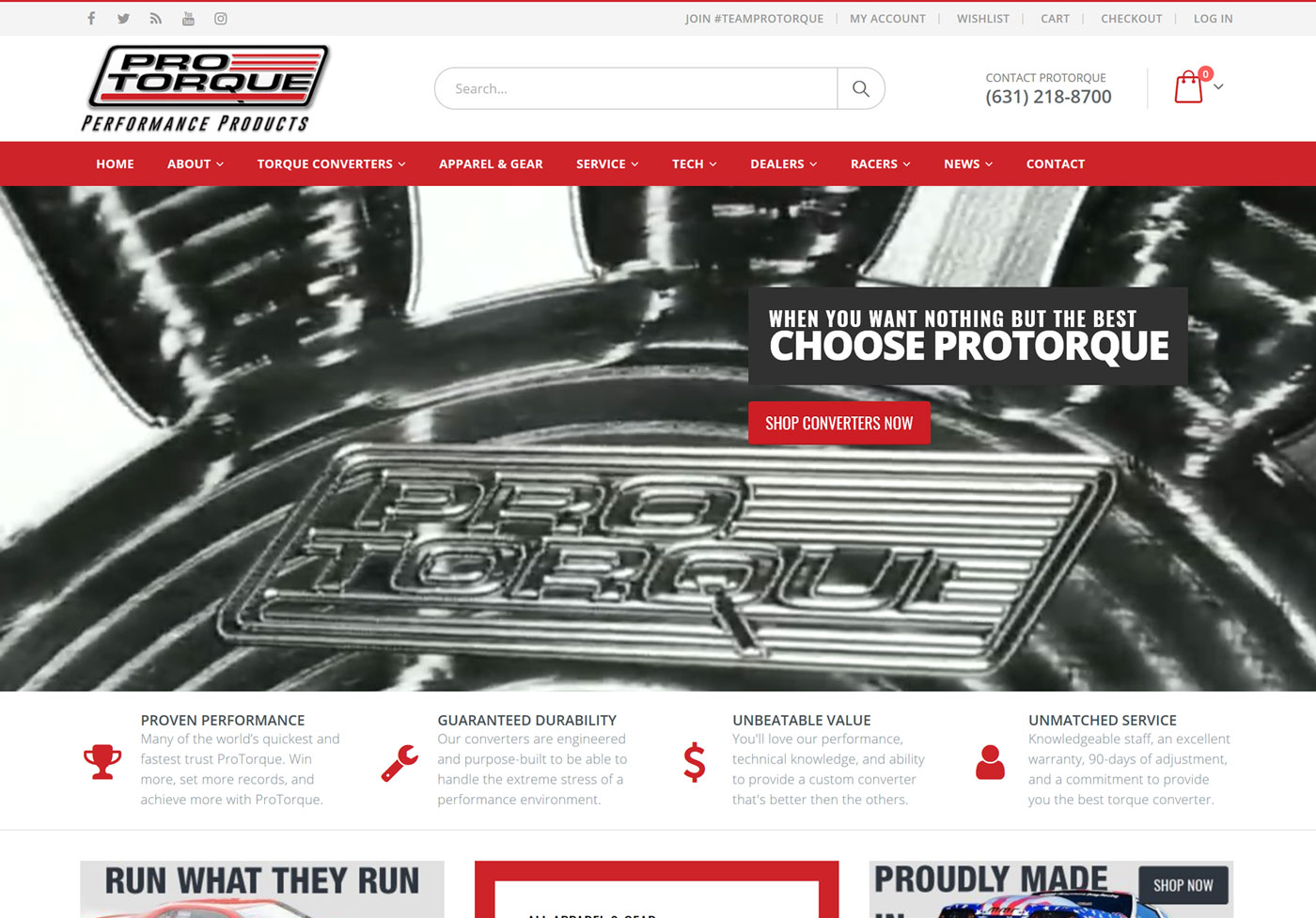 Medford, NY – November 19, 2018 – PROTORQUE PERFORMANCE PRODUCTS has rolled out a beautiful new website that performs like all things ProTorque, fast. The new mobile-friendly ProTorque.com has a clean, modern look that is supported by seamless functionality and intuitive navigation, thanks to the web development team at P.TEN Marketing.
ProTorque.com is the number one performance torque converter resource for racers and hot rod enthusiasts that features technical support information, a full digital product catalog with ecommerce, and a dealer locator map. Getting the right converter is crucial to vehicle performance, and ProTorque.com takes the guesswork out with an online torque converter spec sheet that will ensure that the customers get exactly what they need.
Being a completely customer-driven company, ProTorque prides itself on being in-tune with customers' social media. ProTorque wants to celebrate every win, record, and personal best that has been accomplished with a ProTorque converter. With that in mind, ProTorque.com has a section where customers can report their success to the ProTorque marketing department for promotion through the company's social media pages.
ProTorque.com has a great collection of tech videos and racer interviews, and will continue to catalog informative and entertaining content for the racing community to enjoy.
Good looks, amazing performance, and customer interaction, ProTorque.com is the embodiment of ProTorque Performance Products.
About ProTorque Performance Products:
Based out of Medford, New York, ProTorque was founded in 1983 and has grown from a small, local torque converter rebuilder, to a full-line manufacturing facility with a research and development division and worldwide marketing and sales capabilities. Since its inception, ProTorque has focused on quality and quality has been the reason for its phenomenal growth and customer loyalty. In 2016, ProTorque became ProTorque Performance Products and moved into a new state of the art facility where they devote all resources to motorsports and high performance. For more information, visit online at www.ProTorque.com, "like" ProTorque Performance Products on Facebook at facebook.com/ProTorque and follow ProTorque on Instagram at @ProTorque.